The smiles of the WIPAN team show just what it means to receive a StreetSmart grant.
StreetSmart exists to help fund grassroots homeless services, providing vital funds to the front line of the fight against homelessness. So, it's a great feeling when we get to distribute the funds we have raised with your support – this is what all the hard work is about – real impact on the ground. With Government funding in many areas being cut, especially in the emergency aid budget, these small grants become vital to the projects we fund.
Last week emails went out to 78 projects, across five States, all of which will be funded from the proceeds of DineSmart 2015 and our online fundraising.
Here is what some of the recipients said on hearing they would receive a small StreetSmart community grant…

"That is so exciting- I cried…" Joanne, CEO of West Coast Youth and Community Support Inc
"What wonderful news! Your grant will transform lives…" Mary, Coordinator, Operation Smile BSL
"We are absolutely delighted to hear this news. We had used up our cot budget for the year and were starting to panic and then you rode in like a knight in shining armour!" Jessica, CEO of St Kilda Mums
"That is so amazing, you have no idea what we will be able to do with that money – we have expanded within a year from nothing to having 13 beds for women, and all pretty much done with donations and volunteers." Steph, President of My Friends' Place Qld
So if you left your $2 on a restaurant bill, made a online donation or make a monthly donation this is your impact on people's lives.  100% of these funds raised since November have been pooled, totaling $301,850 78,  taking the StreetSmart tally to $3,896,915, raised and distributed to 1,225 projects at 458 organisations. An amazing effort by all our supporters.
Funds are allocated to the States/towns/regions/suburbs where they are raised, supporting smaller organisations.
| State | Grant Amount | No. of Grants |
| --- | --- | --- |
| VIC | $ 198,700.00 | 40 |
| NSW | $ 62,000.00 | 22 |
| QLD | $ 25,000.00 | 9 |
| SA | $ 13,500.00 | 6 |
| TAS | $ 2,650.00 | 1 |
| TOTAL | $ 301,850.00 | 78 |
Currently grants are distributed twice a year and for each grants round we always have more applications than funds available, which means some tough decisions have to be made. Grant applications are assessed by our volunteer Grants Committees and we rely on their experience and expertise to help us decide which projects receive funding – so a big thank you to everyone involved in the process.
Here's more project feedback…
"This is great news! A huge thanks to all StreetSmart supporters for helping fund the $3,000 grant to support our nightly soup van service. The van provides much needed support to those living on the streets of Adelaide. The soup van provides hot, nutritious soup and good company to homeless people in the city squares and parklands of Adelaide every night throughout the colder months from May until the beginning of October. This crucial funding will be used to fund soup van supplies, including petrol, plus swags, sleeping bags, blankets and warm clothing. These are literally life savers. Thanks StreetSmart, we can't thank you enough!" Joyce van der Sman, Coordinator, Adelaide Day Centre for Homeless Persons Inc.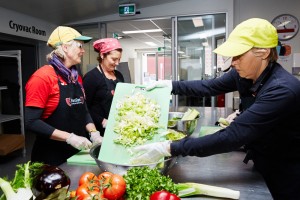 "Thanks StreetSmart! The vegetable slicer will save our volunteers hours of onerous work like chopping onions and free them up to cook more meals. FareShare often receives large quantities of vegetables with a very short shelf life. This places huge demands on our volunteers who sometimes can't get through them in time. The vegetable slicer will make a big difference – especially now that we have two kitchen gardens to grow more vegetables for our nutritious meals." Lucy Farmer, Fareshare
"THANK YOU so much for choosing to provide WIPAN with funds so that we can better support the beautiful women on our program. We are so very appreciative. As stated in our grant application, these funds will allow for a much needed expansion of our existing housing support role. This will offer our worker an extra day to house and advocate for the people who need it most." Lana Sandas, Chief Executive Officer, Women In Prison Advocacy Network (WIPAN) Inc.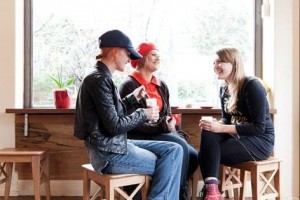 "Wow, what great news! This is such an important grant for St Kilda Gatehouse in helping us fund our social inclusion programs. Funding is incredibly hard to find so staff are overjoyed to hear about StreetSmart's support. This grant directly helps the marginalised women we work with to improve their lives, resilience, confidence and their friendship and support networks. As one woman recently said "This is a healing place, my heart is suffering. You are all wonderful." Andie Patchett | Social Enterprise | Community Development, St Kilda Gatehouse
Full Lists of Community Grant Recipients – April 2016 Round:
– VIC
– NSW
– QLD
– SA
– TAS
Thank you to everyone who participated and donated to make this possible – legends!